Class of Heroes 2G - PlayStation®3
Available NOW on PSN!
When crisp air turns foul, and hideous beasts creep forth to dine on the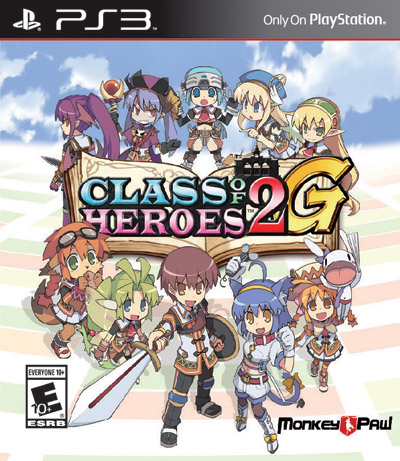 flesh of innocents, a call will go forth. A call for brave adventurers skilled enough to protect the weak and...cowardly. And when the pale moon runs crimson, and blackness devours the land with a thick fog of death, the call will turn to a howl - a plaintive, pleading shriek. In that desperate moment, the students of Crostini Academy of Adventuring Arts stand ready to quell the darkness with staff and blade. Choose from 10 races and 18 classes to build a party, then dive into dozens of locations with over 100 death-dealing Labyrinth maps crawling with over 250 monsters. Collect artifacts, conquer adversity, explore inter-dimensional travel, cheat death, then get back to campus to collect the "A" on your final!
The PlayStation 3 version features all-new weather effects in the Labyrinths, more music, more monsters, an all-new 10-level boss-packed Labyrinth, and optional dual-screen play, where a PSP or PS Vita can be used as the controller for the game and it will display additional information relevant to what's happening on the main screen.


Alcohol Reference
Comic Mischief
Fantasy Violence
Language