WONDERFUL EDITION
NOW FOR PS VITA, TOO!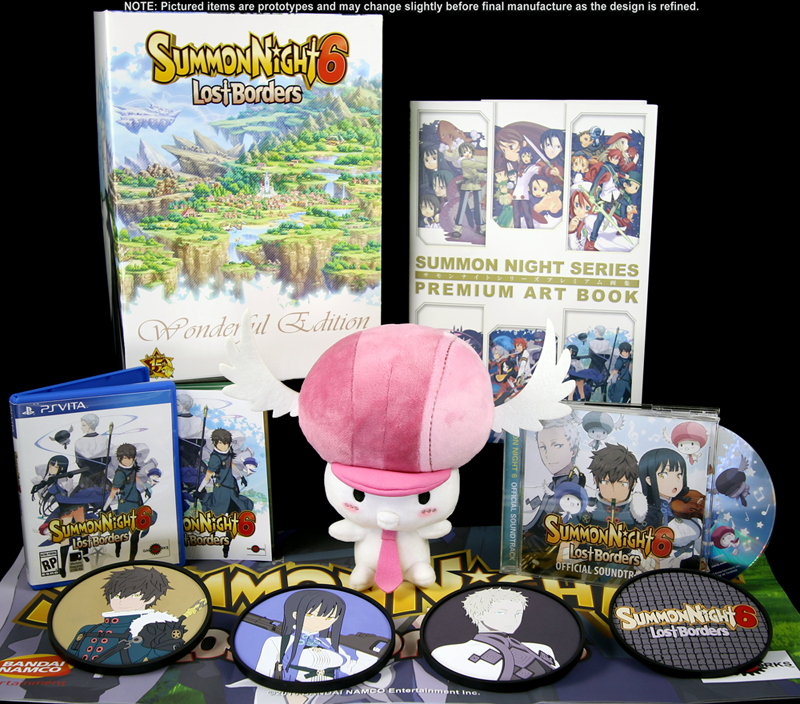 August 2, 2016 - After announcing the PlayStation 4 Wonderful Edition last week we were surprised to hear from legions of PS Vita owners that wanted a Wonderful Edition of the Summon Night 6 release, too. After a crazy week of figuring out how to adapt the internal package structure to accommodate a PS Vita or a PlayStation 4 game, we've finally got a solution that will work, and are announcing today that because of overwhelming fan feedback, we're offering the PS Vita Wonderful Edition for presale, beginning today! The PS Vita Wonderful Edition will have all the same amazing goodies as the PS4 version, except the poster will be different and it will come with a PS Vita game and unique serial numbered hologram instead of a PS4 game and PS4-specific hologram.

Each $135 presale reservation voucher purchased will reserve one PS Vita Wonderful Edition that will ship when the game is released in March. After November 30th we will not be selling any more PSVita or PS4 Wonderful Editions so we have time to complete manufacture, ship, and assemble the sets so they're ready for launch.
We're using Amazon Payments, so if you have an Amazon account, you're ready to buy! But we ask that you please check your Amazon shipping address to make sure it's correct BEFORE you make a purchase or purchases. We're very excited about the Wonderful Edition we've put together, and hope you are, too! Click the button below either the PS4 or PS Vita version to go to the order page for that version: