SUMMON NIGHT 6 PLAYSTATION 4 WONDERFUL EDITION UNVEILED!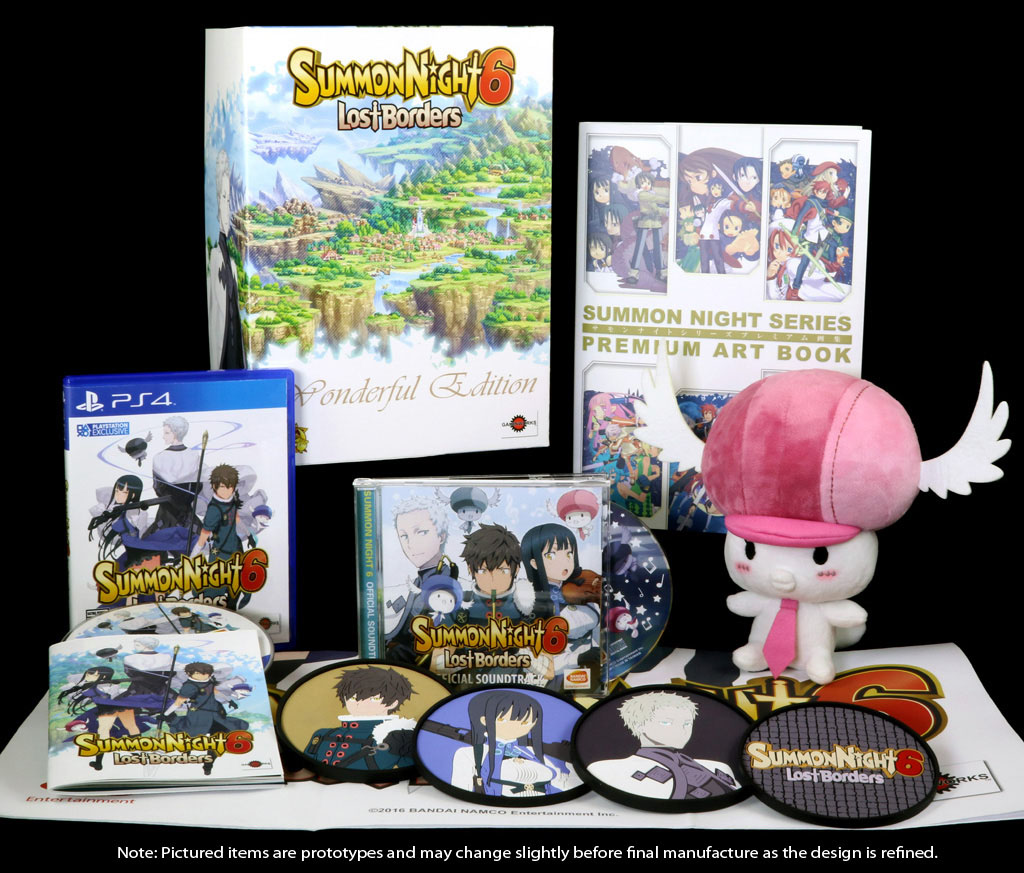 July 25, 2016 - Today we are taking the wraps off one of the best special edition box sets we've done, the Wonderful Edition for Summon Night 6:Lost Borders. It's the super-size direct presale-only big brother to the standard retail release that will come out in March. The Japanese collector's edition for the PS Vita was very nice, so we had a lot to live up to, but we put our ambition into overdrive to improve on that in every way possible for the North American PlayStation 4 collector's edition.
We took the softcover Japanese art book and made it hardcover with a de-embossed logo in the cover and a dust jacket to protect it all. And since the game theme is one of friendship, we decided to make cool molded PVC coasters featuring the characters from the game so you can enjoy a cold one with your friends while you play without marking up the furniture with condensation rings. The soundtrack is the same as the Japanese one, but upgraded with a full CD case and booklet instead of just a sleeve. Fans liked the mini poster we included with Summon Night 5, so we've supersized that idea for Summon Night 6, including a massive 21" x 30" poster in this set. And then there's the plush. We think you're going to fall in love with the main character's sidekicks like we have, so we made a hefty plush of each of them. The pink one, Quilt, is shown, but there will be a blue one and a gray one, too. Each Wonderful Edition will have one plush randomly inserted from among the three we're making. All of this is packed up with the PlayStation 4 game in a big, beautiful box that will look great next to your other prized gaming possessions.
Presales for the Wonderful Edition are open today - right now! Each $149 presale reservation voucher purchased will reserve one PlayStation 4 Wonderful Edition that will ship when the game is released in March. After November 30th we will not be selling any more Wonderful Editions so we have time to complete manufacture, ship, and assemble the sets so they're ready for launch.
We're using Amazon Payments, so if you have an Amazon account, you're ready to buy! But we ask that you please check your Amazon shipping address to make sure it's correct BEFORE you make a purchase or purchases. We're very excited about the Wonderful Edition we've put together, and hope you are, too! Click the button below to go to the order page for the version you wish to purchase.