Class of Heroes 2G Limited Edition for PlayStation®3 Physical Edition PRESALE OPEN NOW!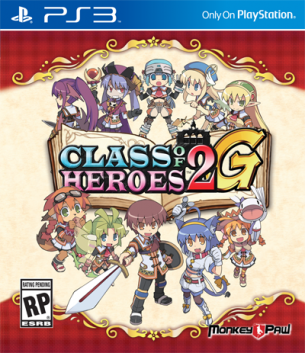 Presales are now open! We're happy to be able to offer fans a Limited Edition physical version of Class of Heroes 2G for $49.99 + $4 S/H. Canadian and International shipping will be a bit more.
The game features a full color disc label, full color 2-sided box insert, full color manual, and serial numbered hologram on the package.
The presales will stay open for about a month, until July 27th. Once they close, we will make enough physical games to fill only those prepaid orders and no more physical editions will be made. This is a one-off production run of physical units, after which the game will be available only digitally on PSN, making this an extremely collectible physical PlayStation®3 game title. Note that this is a presale, not a preorder. We will charge your credit card in 1-3 days and you will receive an e-voucher reserving your copy, which will be shipped when manufacture is completed, approximately 6-8 weeks from now.
Some of you have asked about the game's production. The opening song and video is using the license we negotiated for the PSP version, but is now in high resolution. The Japanese version's original song is also licensed and user-selectable. The game also has giant all-new labyrinth called the "Dark Gate", weather effects (snow, rain, etc), a host of brand new monsters, and new music. Finally, this game features the very cool first-of-its-kind-in-PlayStation® RPGs Dual-Screen play feature where a PSP or Vita can be used as a controller and their screen will display additional information relevant to what's happening on the PlayStation®3 screen. It's a very exciting, but completely optional feature (fans can still play with a plain Dualshock if they wish) we hope to see in many other RPGs soon! Check out the video below that demonstrates the feature, and be sure to select 1080p with the gear icon, then make the video full screen to see the details on the PSP/Vita screen more clearly.
We are using Amazon checkout for payment processing, so if you need to add an address, modify your address, or add/edit credit card information, please do that on Amazon first, then come back here when you're ready to go.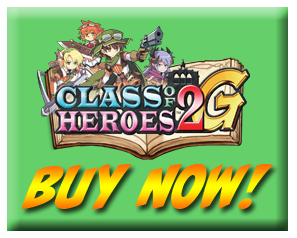 BUT WAIT, THERE'S MORE!
To celebrate the fact that Class of Heroes 2G is the first PlayStation®3 RPG to take advantage of dual screen play when you use a Vita or PSP as the controller, we're giving away a PlayStation®Vita every week to one lucky winner chosen from all the presales that week and the weeks prior. Each presale automatically gets one entry, and the entries roll over to successive weeks, meaning if you bought a game in week one, you'll have four chances to win. We'll be updating the winners right here on the main page as they are chosen, and they will receive their prize when the game ships so they can jump right in to the dual-screen goodness as soon as they receive it!

This completely awesome giveaway is thanks to the goodhearted gamers at MonkeyPaw Games and GAIJINWORKS and is not sponsored or endorsed by Sony. We did this on our own to make four fan's lives even more awesome.
FINAL NOTE:IF YOU ORDERED BETWEEN 12:00 and 12:30PM PST ON 6.23.14 CHECK YOUR EMAIL RECEIPT FOR THE TERM "Amazon Sandbox". DUE TO A GLITCH, INITIAL ORDERS DURING THAT 30 MINUTE WINDOW WERE ROUTED TO A TEST BIN AND ARE NOT REAL - THEY WILL HAVE TO BE RE-PLACED. SANDBOX ORDERS WILL NOT ACTUALLY CHARGE YOUR CREDIT CARD. YOU CAN CANCEL YOUR SANDBOX ORDER IF YOU WANT TO, BUT SINCE THEY'RE NOT REAL, THEY WILL DROP OFF AUTOMATICALLY IN A FEW WEEKS.