Class of Heroes 2G Limited Edition for PlayStation®3 Physical Edition
PRESALE CLOSED!
Class of Heroes 2G presales are now closed! Thanks to all who participated. We'll be updating the site as we move through the phases of the manufacturing process and Final QA. And for those of you th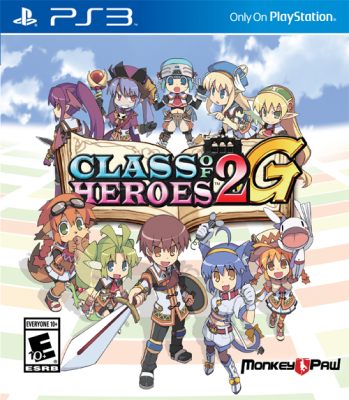 at missed out on a physical copy, the PSN release will slake your PS3 dungeon crawling thirst. We'll put up the date for that when it's slotted by Sony.
Some of you have asked about details of Class of Heroes 2G and what makes it different than the PSP version. The opening song and video is using the license we negotiated for the PSP version, but is now in high resolution. The Japanese version's original song is also licensed and user-selectable. The game also has giant all-new labyrinth called the "Dark Gate", weather effects (snow, rain, etc), a host of brand new monsters, and new music. Finally, this game features the very cool first-of-its-kind-in-PlayStation® RPGs Dual-Screen play feature where a PSP or Vita can be used as a controller and their screen will display additional information relevant to what's happening on the PlayStation®3 screen. It's a very exciting, but completely optional feature (fans can still play with a plain Dualshock if they wish) we hope to see in many other RPGs soon! Check out the video below that demonstrates the feature, and be sure to select 1080p with the gear icon, then make the video full screen to see the details on the PSP/Vita screen more clearly.
PlayStation Vita Giveaway Results!
To celebrate the fact that Class of Heroes 2G is the first PlayStation®3 RPG to take advantage of dual screen play when you use a Vita or PSP as the controller, we gave away a PlayStation®Vita every week to one lucky winner chosen from all the CoH2G presales that week and the weeks prior. Here are the winners chosen that will receive their prize when their Class of Heroes 2G physical copy is delivered.

This completely awesome giveaway is thanks to the goodhearted gamers at MonkeyPaw Games and GAIJINWORKS and is not sponsored or endorsed by Sony. We did this on our own to make four fan's lives even more awesome.
FINAL NOTE:IF YOU ORDERED BETWEEN 12:00 and 12:30PM PST ON 6.23.14 CHECK YOUR EMAIL RECEIPT FOR THE TERM "Amazon Sandbox". DUE TO A GLITCH, INITIAL ORDERS DURING THAT 30 MINUTE WINDOW WERE ROUTED TO A TEST BIN AND ARE NOT REAL - THEY WILL HAVE TO BE RE-PLACED. SANDBOX ORDERS WILL NOT ACTUALLY CHARGE YOUR CREDIT CARD. YOU CAN CANCEL YOUR SANDBOX ORDER IF YOU WANT TO, BUT SINCE THEY'RE NOT REAL, THEY WILL DROP OFF AUTOMATICALLY IN A FEW WEEKS.