Class of Heroes 2G Limited Edition for PlayStation 3 Physical Edition signup!
We're in the final testing phase of Class of Heroes 2G Limi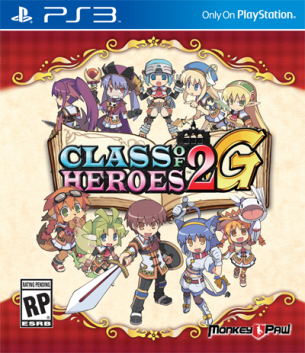 ted Edition for the PlayStation 3, polishing up the trophies and getting the game ready for final Sony Q/A. Though we initially were going to release this as digital-only, fans have asked for the option to have a one run, Limited Edition physical copy, so we're opening up a poll to see if there's enough interest for a direct-to-customer presale as we did with the PSP game.
If we can pre-sell at least 7,000 copies of a Limited Edition Physical PlayStation 3 version with a color manual, BD-ROM with color disc label, full color reversible cover insert, and a serial numbered hologram, we can do a physical release for $39.99+$4 shipping - shipped directly to you. At this time, all we want to do is gauge interest in this offering, so if you want to purchase this version, were it made available, sign up using the form below with your email address, your name, and the number of copies you want.
The PS3 box art shown to the right is based on the Japanese version and is here as a placeholder. However, if the demand for the Limited Edition Physical version hits the 7000 unit threshold to become a go, we will put the box cover design up for fans to vote on. Whichever box art gets the most votes will be the one used for the physical release.
Some of you have asked about the game's production. The opening song and video is using the license we negotiated for the PSP version, but is now in high resolution. The Japanese version's original song is also licensed and user-selectable. This game features the very cool first-of-its-kind-in-PlayStation RPGs Dual-Screen play feature where a PSP or Vita can be used as a controller and their screen will display additional information relevant to what's happening on the PlayStation 3 screen. It's a very exciting feature we hope to see in many other RPGs soon! Check out the video below that demonstrates the feature, and be sure to select 1080p with the gear icon, then make the video full screen to see the details on the PSP/Vita screen more clearly.
If you're interested in the one-time presale-only physical version, fill out the form below and hit submit (don't forget to verify your email address using the link you will be sent). THIS IS NOT THE ACTUAL PRESALE. It's just a way for us to see if we should proceed with the presale program.
INTERNATIONAL FANS: You are welcome to sign up for the presale program, but please note that international orders for a North American physical version will cost $10 for regular shipping instead, with additional cost for an express shipping courier option which we'll determine before a presale goes live so you have a choice.
For those content with a digital version only, fear not! The digital release of Class of Heroes 2G for PlayStation 3 will be available on the North American PlayStation Network in Spring 2014 for $34.99.
I would buy a Physical Copy of Class of Heroes 2G for PlayStation 3!
Subscribing to this "Special" mailing list, I'm indicating I have the need and funds to know the satisfaction that comes from buying a physical version of the one-time run of Class of Heroes 2G for the PlayStation 3. If enough signups are made here for at least 7000 copies within the next approximately 30 days, an official ordering link through Amazon Payments will be opened, the physical version of the game will be a go, and the actual presale period will begin. NOTE: YOU ARE NOT SIGNED UP UNTIL YOU CLICK THE LINK ON THE VERIFICATION "Subscribe to Mailing List" EMAIL SENT TO YOUR EMAIL ADDRESS. This special list is ONLY used to gauge interest in the ONE TIME Class of Heroes 2G Physical release. YOUR INFORMATION WILL NOT BE SOLD OR USED FOR ANY OTHER PURPOSE.