Oct 16, 201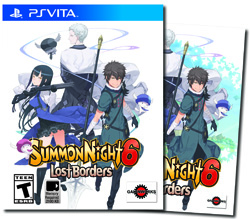 7 - The amazing Summon Night 6 is finally almost here for PS4 and PSVita, and you can help us spread the word and have chances to win awesome prices in the process! Today we're announcing the Summon Night 6 Prize Summoner, where every week for the next 8 weeks, we'll tweet one or more Official Tweets from our @GAIJINWORKS twitter account with hashtag #SN6PS promoting the game, and by retweeting that tweet, you'll be automagically entered in that week's prize drawing, as well as for the grand prize drawing in week 9. Retweet entries accumulate, so if you retweet from week one, you'll have more entries in successive weeks and at the final grand prize.
Each week of the promotion, the winner chosen at random from all eligible retweets will receive a Summon Night 6:Wonderful Edition deluxe set, and a runner up will receive a PlayStation TV system.

The grand prize drawn in week 9 from all eligible retweets from the entire promotion will net the lucky fan a 55" HD Television, Summon Night 6: Wonderful Edition, PlayStation TV system, and a delicious assortment of snacks and drinks to enjoy while playing the game.

To enter you must reside in North America and have a twitter account. Love of jRPGs is not required but will probably help your promotional karma and general self-worth. Follow @GAIJINWORKS and keep an eye out for the promotional tweet(s) with the #SN6PS hashtag so you can retweet it and help spread awareness of how awesome Summon Night 6 is, netting yourself chances to win some truly awesome prizes in the process!
DISCLAIMER:The Summon Night 6 PRIZE SUMMONER promotion features awesome prizes from Sony Interactive Entertainment, Amazon, electronics companies, snack vendors, and beverage manufacturers, but none of them are affiliated with nor endorsing this promotion. We wish they were, though, because then we could get a deal on the prizes - maybe even get them for free like you will if you're a winner by retweeting @GAIJINWORKS tweets with the #SN6PS from wherever you happen to be when you see one of these very special tweets for the next 8 weeks.