Class of Heroes 3 - Coming Soon for PSP®!
Time to hit the books with a new crop of adventurers! Class of Heroes 3 takes the series to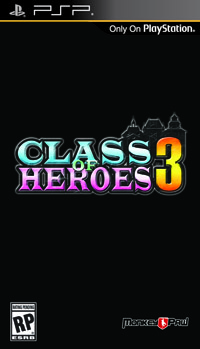 the next level with fan-requested changes and all new game systems that make this one of the most addictive and charming dungeon crawling RPGs ever!
The biggest new feature is that instead of one school, players have the choice of three very different schools to begin their quest and call their home during the game. The school chosen will change the uniforms of the players and the degree of difficulty of the game. Each school also has a unique cast of characters to interact with. Once the school is chosen and the game begins, players will also notice new systems like the expanded Affinity system that allows specific love/hate connections to be specified between characters to grow positive or negative relationships under player's specific control. Finally, one of the most-requested changes from Class of Heroes 2 has been implemented as well: labyrinths now feature a selection of ambient music as you explore them.
With the expanded school campus system, devilish new labyrinths, charming gameplay, and enormous cast of characters, Class of Heroes 3 won't be easy for dungeon-crawling fans to put down once they start!
Pricing will be released once the poll for the physical+digital version is completed.